Shopping
at Hong Kong Island
Hong Kong is well known as a Shopping Paradise and with the most important shopping districts on Hong Kong Island you need to leave the island for all your shopping needs. From luxury brands to funky boutiques, from traditional handicrafts to high tech gadgets, everything is available on Hong Kong Island.
With long opening hours and easy access to shops and malls in Hong Kong focus on providing customers with what they need, whether on a week day or a weekend all types of shops are available. Only banks, business offices and the link close on Sundays but even they are open on Saturday mornings. All arcades, malls, department stores and chain shops open 7 days a week and also on public holidays.
While shops are distributed all over the island there are some districts in which the choices are particularly great or focus on particular types of goods.
Central and Admiralty
The central business district, which now merges towards the east into Admirality, is home to some of the biggest high end brands in the world, as well as plenty of local shops, chain stores and malls and arcades.
For comfortable indoor shopping try IFC Mall which is just above the MTR Hong Kong Station and full of busy businesspeople due to it's proximity to the International Finance Centre offices, and the adjacent Stock Exchange in Exchange Square. With brands from Tiffany & Co to Zara, from the Apple Store to Oregon Scientific there are no shortage of choices both in styles and in budgets. Check out one of Hong Kong's best book shops at Dymocks or buy luxury picnic ingredients in the high-end citySuper deli and market.
Browse along Queen's Road and Des Voux Road which are lined with jewelers, boutiques both low and high end, mixed with banks, phone shops and so on. Then venture into the crowded lanes that run between these two main streets, particularly Li Yuen Street West and and Li Yuen Street East.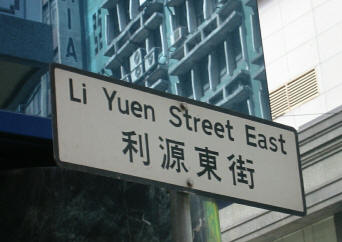 These are The Lanes which are well known as places to buy all types of discount clothing, souvenirs, shoes and children's clothing. As mini market streets they are packed with people but offer a great chance to do some market shopping in the middle of the busy city.
Refined high end shopping can be found also in The Landmark and Princes Building which is just across from the Mandarin Oriental Hotel. View the historic colonial Supreme Court building which faces the modern marvel of engineering, the HSBC Headquarters building, then join the elevated walkway to go into Admiralty.
The walkway takes you into United Centre for some budget shopping, then across the road into Pacific Place for a giant mall experience with dining and shopping at all levels.
Western and Sheung Wan
Visit the Western district of Hong Kong Island to visit old Western Market, a colonial market building now housing interesting little shops, such as the 80M Bus Model Shop devoted to model busses, on the ground and on the 1st floor the fabric vendors who once worked in The Lanes of central. A great place to visit if you have any interest in historic buildings or fabric!
Beyond in Sheung Wan is Dried Seafood Street where salted fish, preserved scallops and all manner of other seafood are displayed in big bold displays at the many shops along the street. Selling both wholesale and retail these shops trade and supply much of the world's demand for these Chinese speciality foods.
Wanchai
Once known only for it's entertainment the Wanchai District is now a great shopping destination for locals and visitors alike. Walk along Queen's Road East to view the furniture shops display traditional Chinese styles in dark wood or rattan, beside art shops with paintings, framing and other interior décor items. For speciality shopping try Tai Yuen Street or "Toy Street" packed with everything from the latest releases to historic standards. A highlight for computer shopping is the Wanchai Computer Centre which is packed with shops selling all the latest equipment and great prices.
Causeway Bay
From the Japanese department store SOGO to the Times Square Mall, from the funky boutiques of Island Beverley to the SASA make up shops there are no shortage of choices in Causeway Bay. Once Japanese influenced the district is now more global in character and includes Swedish furniture giant IKEA and American Forever 21.
Check out particularly the mall at the Hong Kong World Trade Centre, the Windsor House and the Lee Gardens.
While Hong Kong as a whole is a place for late night shopping this is particularly true in Causeway Bay, you won't find any shortage of shops to visit even after midnight.
South Side
While a quieter part of the island there are still major shopping destinations on the south side of Hong Kong Island, by far the best known to tourists is Stanley Market, a street market at Stanley Village that is now the main reason to visit, other than the excellent dining along Stanley Beach Road and of course Murray House, the historic colonial building that was relocated to here from the north of Hong Kong stone by stone.
Take a bus to reach Stanley and enjoy the market shopping of clothing, accessories and souvenirs then a stroll along the beach front and a meal in one of the many international bars, cafes and restaurants.
Visit the fishing village of Aberdeen, take the bridge over to Ap Lei Chau which is a small island best known for Horizon Plaza, a large industrial bulding that converted into furniture shops and fashion brand outlets.