History
of Hong Kong Island
Located near mouth of the Pearl River the location of Hong Kong Island has always been attractive and settlements have existed on the island since Neolithic times. But it isn't until the beginning of the British Colonial period that the island entered rapid development, which continues to this day.
Early Imperial history - Although the Southern Han dynasty Emperor was briefly enthroned on nearby Lantau Island and later in Kowloon in the 13th Century the rest of Hong Kong remained undeveloped and in the 14th century became a rural outpost with no direct contact with the imperial capital.
1841 - The undeveloped Hong Kong Island is chosen by the conquering British after the First Opium War as their headquarters. Ceded under the Unequal Treaty the British established military base and rapidly a commercial centre on Hong Kong Island.
1864 - Now a busy trading port the first major bank is established in Hong Kong, the Hong Kong and Shanghai Banking Corporation, today still active and known as HSBC.
1888 - Catering to the increasing international population who choose to live on Victoria Peak the historic Peak Tram is opened, and it remains to this day an important sightseeing destination.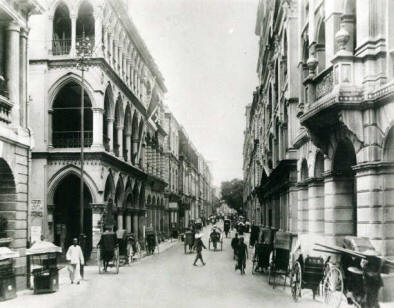 1915 - The new post office building in Wanchai opens. After operating for 77 years as a post office it closed and became and educational resource centre in 1992.
1933 - China Motor Bus starts the first bus company on Hong Kong Island, the start of the excellent public transport system that is to serve HK so well.
1941 - After a heroic fight against overwhelming odds Hong Kong surrenders to the occupying Japanese army.
1945 - British Colonial rule re-established in Hong Kong.
1956 - Riots between pro and anti communist protesters leave many dead.
1979 - The first MTR line opens on Hong Kong Island, while originally seen by some as a White Elephant it rapidly becomes popular and eases commuting on Hong Kong.
1986 - HSBC Headquarters building opens, the first of many amazing architectural developments to bless the city.
1997 - Hong Kong is returned to China at a ceremony at the Hong Kong Exhibition Centre in Wanchai on Hong Kong Island.
2005 - Hong Kong Disneyland opens.