Beaches
Of Hong Kong Island
Although Hong Kong is often considered an urban destination there are in fact many quiet parts even of the main Hong Kong Island, and that includes world class beaches which are so close to the bustle of the city centre that you can dine at a Michelin star restaurant for lunch, spend the afternoon bathing on a soft sandy beach, and dine overlooking Victoria Harbour from Victoria Peak, all in a day and without hurrying.
The beaches of Hong Kong are on the South Side of the Island and range all along the coast offering a range of different styles depending on whether you want a family outing, a quiet couples beach, somewhere to explore the wilds.
While the most popular beach is probably Repulse Bay Beach, and this is easily accessible by bus or Taxi as it is right by the main road on the south side, it has excellent facilities and is a great choice for a family outing with kids.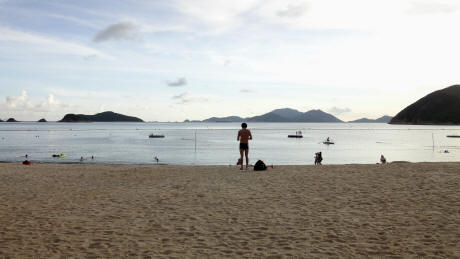 Deep Water Bay Beach, Repulse Bay Beach (pictured), Middle Bay Beach and South Bay Beach are all close together and have similar facilities though Repulse Bay is the largest and most recommended for families while South Bay Beach has a more adult only crowd. Lifeguards, changing rooms and snack bars are the same on each.
Chung Hom Kok Beach - One of the quietest beaches but still with lifeguards and public facilities.
St Stephens Beach and Stanley Main Beach are on either side of the Stanley Peninsular with the Stanley Main beach being the largest and most popular.
Hairpin Beach - Not open for swimming, but a great place therefore to go to be away from crowds if you just want sand, rocks and sea. Located just north of the Stanley Main Beach.
Turtle Cove Beach and Shek O Beach are great quiet beaches but harder to reach.
Rocky Bay Beach - Not open for swimming this bay just beside Shek O is favoured for boating, small sail boats, kayaks and as a landing spot for Paragliders.
Big Wave Bay - As the name implies the beach with teh largest waves, popular therefore with the Hong Kong surfer community.